Business Insurance
---
At Regal Insurance Brokers, we don't look at you as client; we regard you as a business partner.
Get A Quote
Learn More

How to choose business insurance?
Here are some tips to help you choose the best insurance policy for you. 
Look for a scalable plan – As the size of your business grows, you'll want an insurance policy to do the same. Based on the per-employee cost, it may be difficult to scale as you hire more people. 

Don't assume what's covered and what's not – If there are any uncertainties with what is covered and what isn't covered, be sure to ask questions and get full clarification. 

Find out how quotes are calculated – Ask your insurance broker how the quote is being calculated. This will help you understand the scalability of your insurance policy especially if it is based on a per-employee cost. 

What are your industry's insurance obligations – Certain industries have mandatory insurance coverage provisions in place. Be sure you're fully aware of what insurance you're legally required to have to operate your business.

Read each policy carefully – Not all business insurance policies are the same. Be sure to read over each policy carefully and ask questions if you have any. 

Keep all your options open – Make sure you fully investigate all possible options available before making a final decision. 

Work with a trusted broker – It is important to work with an insurance broker who fully understands your industry and someone you can trust. 
How to get small business insurance?
A small business insurance policy helps protect you from accidents that may happen such as cyber attacks, liability lawsuits, business interruption, weather damage, and more.
General liability insurance for small business will cover defense and damages in the event that you or your employees, or your products or services cause bodily injury or property damage to a third party.
Small business quotes are different for every unique industry. At Regal Insurance Brokers, we pair you with an insurance broker that understands your business as well as you do to ensure you're fully covered.
What type of business insurance do I need?
As a business owner, it's important to pick the right business insurance policy which offers the most amount of coverage while allowing you to be efficient with your money.
The most common types of business insurance are worker's compensation insurance (WSIB insurance), professional liability insurance or errors and omissions insurance, property insurance, product liability insurance, commercial auto insurance, and cyber insurance.
Depending on the nature of your business, you may want to consider various insurance policy options. The following questions can help kickstart your initial search to better narrow in on what insurance policy would be best for you and your business. Will you be hiring employees? Will you have a brick-and-mortar location? Will you be offering a service, product, or both? For example, a freelance graphic designer working from home won't need the same coverage as a beauty esthetician working in a salon. Not all businesses are the same which is why we provide a variety of options to choose from.
Insurance quotes are different for every unique industry. At Regal Insurance Brokers, we pair you with an insurance broker that understands your business as well as you do to ensure you're fully covered.
Insurance that Works for You
---
Our main concern is finding you the best business insurance at the best value. When you choose Regal Insurance, you get:
AffordabilityWe represent more major insurers than most brokers in Ontario. This guarantees you'll always get the best price around.
AvailabilityWe're here for you. That means: access to your broker via chat, phone or web conference, after- hours claim support and an online portal with document access 24/7.
AdviceWhen you contact us for assistance, you will speak to a real, RIBO licensed broker: no bots, no unlicensed help. We're real people with real solutions.
ConvenienceLife is busy, we know. That's why we take every step to make sure our process is fast and easy. We provide digital policy documents, utilize e-signatures and allow online payments.
Getting Insured is Easy as 1, 2, 3
---
Get A Quote
We Ask You Some Questions
Assigned Broker
We Compare Multiple Quotes
Online Support
We Find the Best Coverage for You
Working with Regal is a real pleasure, staff are extremely helpful, polite and get you the answers that you need. I have been dealing with Regal Insurance for over 10 years both personally and business wise. I have recommended Regal Insurance to my family and clients.

Wendy B
I felt the agent was above board. He listened and searched for a package that met our needs. Thank you. We saved over 1000.00 off our other kitchener brokers best effort

Carl & Sandra K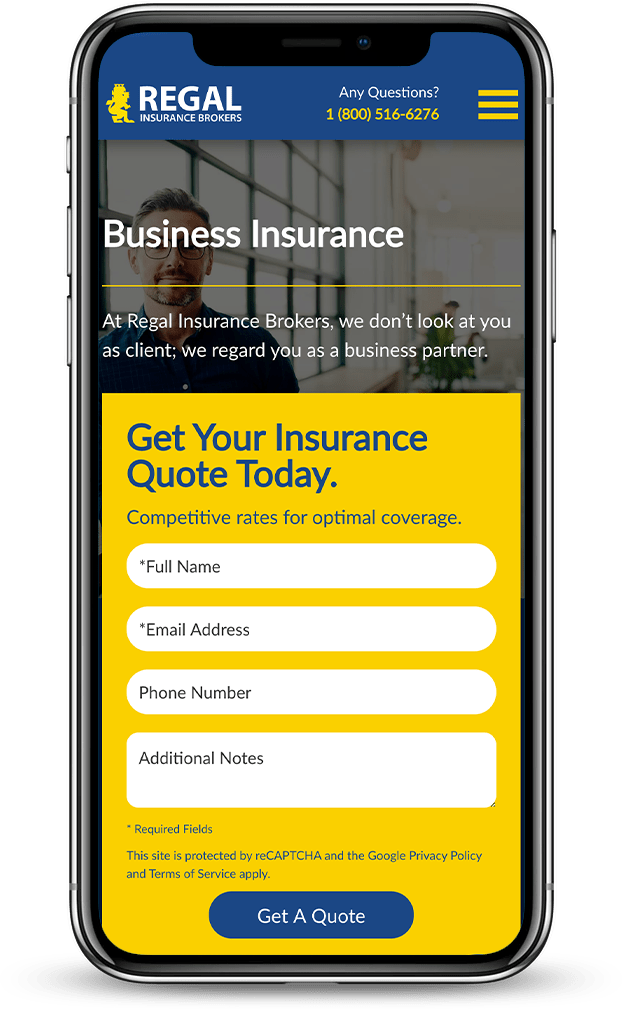 Ready To Get Started?
---
Contact a Regal Insurance Broker today to find a business insurance plan that works for you.
Get A Quote
Comparing Business Insurance Rates From Canada's Leading Insurance Providers
---